High Quality, Ethically Sourced Materials
Satisfaction is Guaranteed
Our Story
Custom cabinets, unique furniture, and bespoke projects.
We're Hiring !
If you are an experienced carpenter/cabinet maker or cabinet installer and would like to join this award winning team please contact us at
912-220-2335
Whether the dream is to transform a kitchen into "Culinary Art" or to create a stylish environment in home or place of work, AWD will provide the creativity and expertise needed to translate the aspiration into reality. To guarantee a favorable experience, we work closely with our clients in order to develop a vision that meets needs, tastes and budget.
At AWD our devotion is to the craftsmanship of the finest custom cabinetry and furniture. Imagination takes form as the ideas we develop are brought to life by the hands of our skilled craftsmen. We believe our client's dreams define the quality of our products regardless of personal style and taste. Our custom design reflects ideas of form and functionality while retaining a vision of understated elegance in the creation of a complete living environment.
Our reputation for providing the finest in quality custom cabinetry and furniture pieces translates into a concept created for each individual project. An outstanding selection of wood species, color choices and specialty finishes are part of the AWD experience – AWD cabinetry and furniture can be crafted in any domestic or exotic wood species. Truly custom, we build projects to match exact specifications of height, width, depth, door style and finished selection.
Our Mission
At AWD, our goal is to provide high quality architectural woodworking, furniture, and cabinetry.  We customize our projects for the needs of the client, to include desired style, creative design, and purposeful functionality.
Our Vision
We draw inspiration from the unique space we have to work with, client interviews, studying their current home and/or environment, and inspirational imagery. A single word may lead to the interpretation of a project. The end goal is intentional uniqueness to push your boundaries of design to make something truly unique.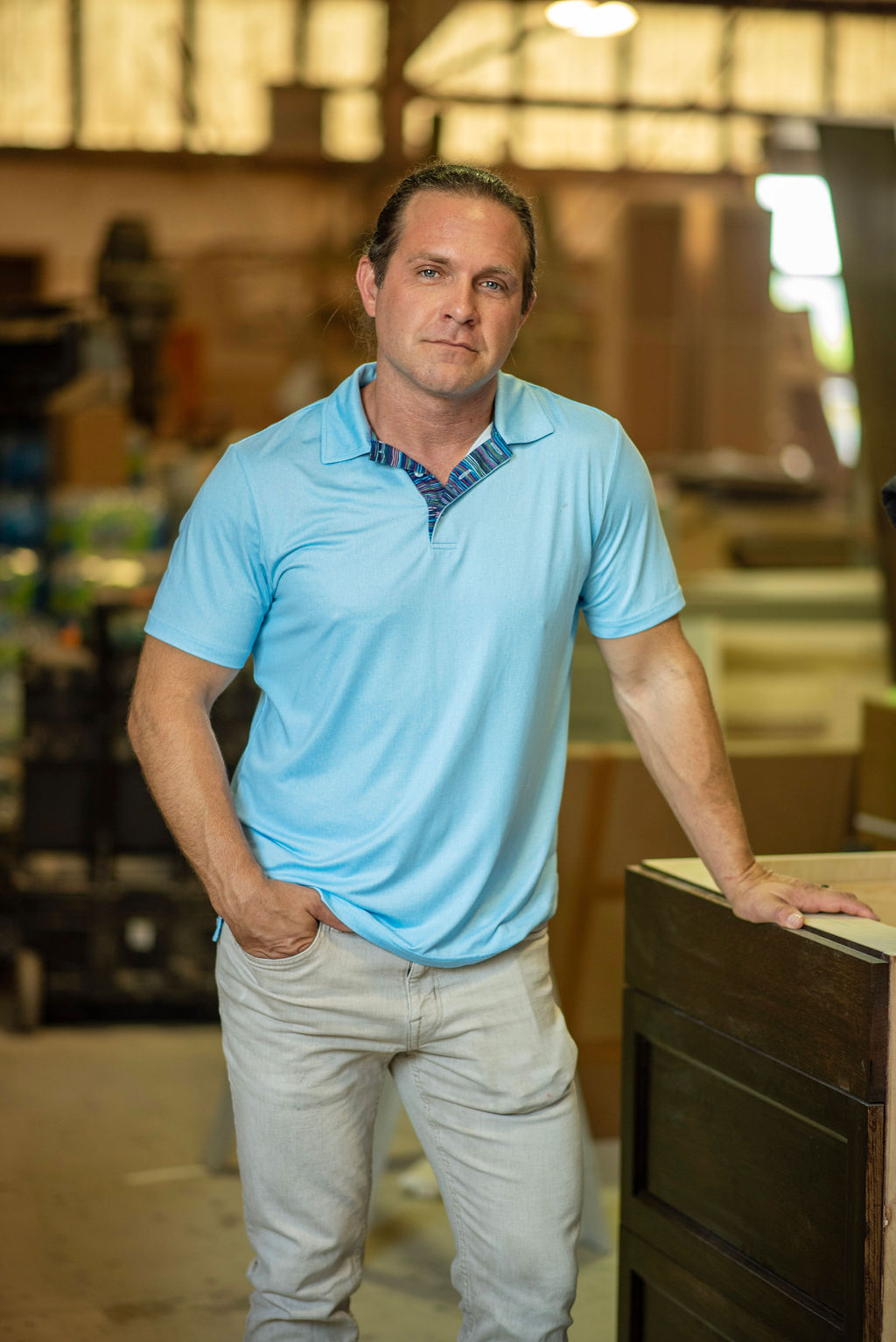 Harley Ashbaugh made his way to Savannah, Georgia in 1997 to attend the Savannah College of Art and Design. He graduated in 2003 with a BFA in Interior Design and minors in Furniture Design and Architectural History. Harley was introduced to the concepts of production and precision at an early age while helping in his father's machine shop.
Who We Are
Harley Ashbaugh, Principal of AWD
During college Harley worked full time at Intermarine Savannah doing custom woodworking for luxury super yachts. He was introduced to the principles of fine craftsmanship while building all facets of the pilot house. He would start the process with the framing after the fiberglass superstructures, through to the fine woodworking and punchlists, he was focused on this room until the day the ship left the yard. An interest in furniture was sparked and he dedicated himself to perfecting his craft. Inspired by a furniture professor, he set the goal to build a piece of furniture a day utilizing scrap material found around the shop.
After graduation, Harley began designing kitchens first at a big box store and later with a private cabinet company. With exceptionally high standards for design and craftsmanship Harley found himself unsatisfied with the limitations of these positions. With plans to venture out on his own Harley met his mentor, Bill Owens who owned Architectural Woodworking on Design. They hit it off while sharing their love of building furniture. Bill took Harley under his wing and they began working out of a single car garage. With all their tools on casters they would pull everything out for the day, work until quitting time, then roll their tools back into the garage. 
Many of the unique techniques and processes Harley learned from Bill are still implemented in AWD's standards. Later Harley and future business partner Winston Maynard would help Bill expand that business to a 12,000 sq ft facility.
Harley and (lifelong friend) Winston started AWD of Savannah in 2009 to pay homage to his late mentor, carrying on the legacy of Architectural Woodworking and Design by naming the new company AWD of Savannah, Inc. Starting over in a single car garage in a recession and growing AWD to the award winning company it is today.
Harley says, "creative problem solving, love of design, and a tangible result at the end of the day is what drives me". His passion to provide clients with hand crafted custom cabinetry, furniture, and millwork has made AWD the premier cabinet company in the region for high end residential homes. 
Outside of work Harley is a husband and father of two. You can find him spending quality time with his family picking out locally grown fruits and veggies at the farmer's market, soaking up the sun at the beach, or expressing his interest in hugelkultur and edible landscaping in his yard. Harley focuses on his personal growth mentally and physically, by challenging himself to "lean into the hard things". 
Winston and Harley's long running friendship began in the second grade shortly after Winston moved from Barbados to Sebring, Florida. From a young age, Winston was always building something. To his parents' dismay he would take things apart around the house, broken or still working, and put them back together. In high school, Winston took a couple of shop classes for an introduction to woodworking.
After high school he attended Missouri West State College to play football then returned home to Sebring, FL. Briefly after his return to Sebring, Winston sought a change in scenery. While contemplating different places to live he decided to join his friend of years in Savannah, GA. 
Immediately, Winston joined Harley at Architectural Woodworking and Design to start building his knowledge of woodworking and finishing techniques from their mentor, Bill Owens. 
Today, Winston plays an integral role at AWD as Master Finisher and touch up specialist. With a refined eye for detail, trained by years of experience in the paint booth, he is the last person on site spotting and refining the smallest of details. Winston's favorite aspect of the work is seeing projects come together start to finish. 
Winston is a father to his son Greyson. They enjoy building and drawing in what they call "Daddy School". Reading a good book or enjoying a movie are a couple of things he likes to do for fun. 
Adrian moved to the United States from Monclova, Coahuila Mexico. At the young age of 17, Adrian started building experience in the construction industry. He started out as a welder then moved on to build a diverse skill set by obtaining knowledge of masonry, framing, and trim work. With his diverse knowledge and skill set, Adrian started his own contracting crew building houses. Shortly after, he was introduced to AWD of Savannah, Inc.
Starting at the bottom of the totem pole, sweeping floors around the shop, Adrian dedicated himself to learning AWD's unique building style and refining his woodworking skills.
Adrian's aptitude was very quickly noticed and excelled to shop manager, after proving himself with his knowledge, dedication, and loyalty to the team, he secured his place as business partner to Harley and Winston. 
His ability to train new team members and successfully manage a team of 18 workers has made him a leading member of the AWD team. 
Adrian is a husband and father of three daughters. Together they enjoy taking trips to the mountains of North Carolina to go hiking. Adrian and his wife Angie train their world class German Shepherds Rio, Nova, Primo, Frida, Donte and their Malinois, Dutchess to be certified protection dogs. Their team of highly trained dogs volunteer to assist police in times of emergencies. They also have a friendly French Bulldog, Pugsley, who stays home in the times of emergencies but occasionally spends a Saturday at the shop with his dad. Adrian spends his free time cooking for his family, friends, and the AWD team. You can find Adrian at the gym every morning dedicated to excelling in his mental and physical journey to become the best version of himself. 
Years of Staff Experience
Completed Projects to Date
What we do
Custom and Semi-Custom Cabinetry, Custom Furniture, Architectural Elements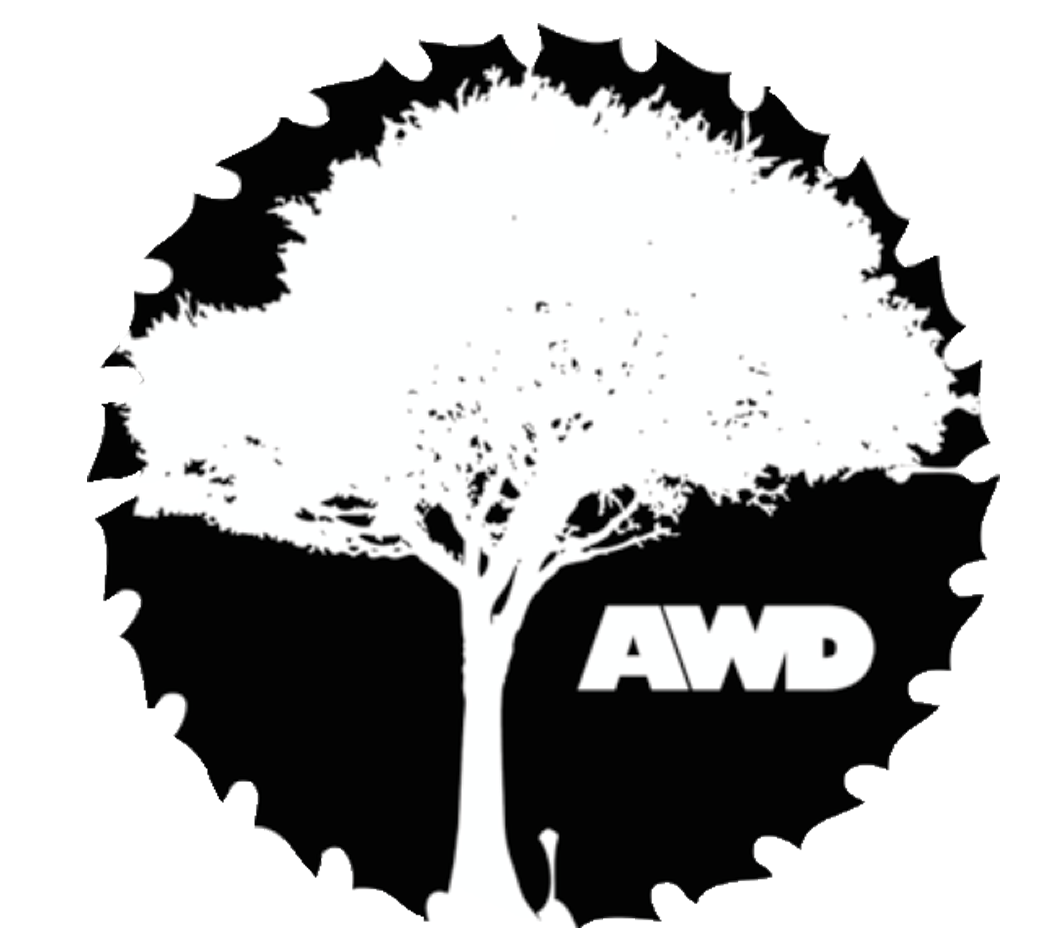 Custom Cabinetry
We build exactly what you want with NO limitation. We do all the things that no one else can do. If you dream it, we can make it.
Semi-Custom Cabinetry
We have exclusive representation with semi-custom cabinet builders Essential Cabinetry Group, Executive Cabinetry, Designers Choice.
Custom Furniture
We make bespoke heirloom quality furniture. Dining room tables, end tables, coffee tables, night stands, credenzas, entertainment center, china hutches, linen cabinets, armoire, couches, loveseats, bunk beds, murphy beds, hall tree, foyer tables, free-standing bars…the list goes on.
Architectural Elements
AWD can create hidden doorways, rooms, and other spaces. We create beautifully designed paneled walls for living spaces, and take special measures to integrate our cabinetry into other elements of the home. 
In the Shop
All of our pieces are designed and manufactured in our shop.